W. Spencer Huffman, Master Composer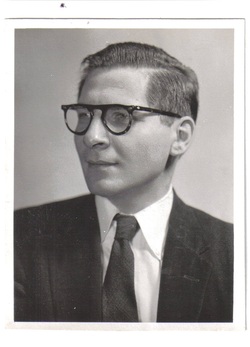 WALTER SPENCER HUFFMAN (1921 - 2005) is one of the most enigmatic figures of 20th century music. A former faculty member at the Peabody Conservatory of Music at Johns Hopkins, Huffman was loved and revered by many of his students. With vehemently-held opinions about the state of contemporary serious music, his knowledge of the great musical literature of the 18th and 19th centuries was legendary. Composing from the early 1940's to the1990's, this intense musical personality reflected early influences of Stravinsky. Once hailed as a promising young American composer, Huffman chose a life of relative obscurity, later composing in a style that incorporated the organizational influence of Mozart with the harmonic beauty of Brahms. His later works have rarely been performed.

-----------------------------------------------------------------

IN HIS OWN WORDS: (FROM HUFFMAN'S WRITINGS, late 1950's):

"The music of Spencer Huffman is not similar to any other contemporary music. It is a reaction against the complication, impracticality, incoherence and cultism that typify the present scene. It is a positive force for simplicity, practicality, coherency and the use of a basic musical language that is easily understood by all.

His music stems from the conviction that the realm of the composer is creation of beauty and architecture within the discipline of a broadly understood language. He believes the creative process that produces lasting work is built on organization and simple beauty rather than experimentation.

Only a reconnection with the traditions of the great and lasting literature will make our contemporary music once again a living thing - a part of the lives of the people. "
---